Last Updated on October 19, 2021 by Holly Anne Dustin
Whether you've headed out on a road trip with your kitty or flown across the country, the time will come when you have to find a place to stay.
Finding a cat friendly hotel is challenging enough, finding one that takes cats is even more so. I don't know if hotels are not aware that there is such a thing as traveling cats, or if managers somehow see Tabby as more destructive than Fido.
Cat Friendly Hotel Chains
Call ahead even if the hotel's website says pet friendly. Pet friendly doesn't always mean it is a hotel that allows cats. There are several directories, including Petswelcome, TripswithPets, and GoPetFriendly, that have hotel listings to save you from blindly searching hotel websites.
Red Roof Inn is our starting point if it is a choice. They are clean and comfortable; the price is reasonable and they do not charge a fee for pets to stay. The rooms are cat friendly, without carpeting and beds that just roll to grab a cat out of hiding. No disassembling box springs off platforms in the Red Roof. And Plush really likes the chairs.
Econolodge and Motel 6 are other reasonable cat friendly hotels. Call ahead to check local policies. La Quinta has been cat friendly, but Wyndham purchased the chain and the pet friendly policy might be changing.
Choice lines and Hilton groups are good options, but check with the manager before you book your room. Even the most cat friendly hotel chains sometimes add cleaning or damage fees that may or may not be refundable. If you are looking for a more luxurious experience, look at Loews or Kimpton Hotels. They not only welcome cats but cater to their pet clientele.
Staying in a Hotel with a Cat
There is an increasing impression that cat travelers leave their room a big mess or let cats damage the room. The first thing you want to do before you let your furry friend out of his carrier is to inspect the room. Check for open windows, holes in walls or cabinetry, broken tile. Anything that could cause him to come to harm. Document any damage you find and report it to the manager so you don't get charged for it.
You can ask to have something removed from the room if you feel Kitty might wreck it. Flat screen TVs spring to mind, or a chair with a texture that might encourage scratching. Plush and Treeno aren't much of a risk to wreck things; but if I was traveling with my crazy kittens or an Aby or Bengal I might think about doing something with the TV at least. You can throw a blanket over a chair that is a scratch magnet.
Enjoy traveling with your cat! When staying in a cat friendly hotel don't leave a mess and be nice to the staff. Be a good ambassador for traveling cats!
Keep Kitty Safe in a Hotel Room
Look under the bed to make sure there is nothing dangerous like dropped medication or cords that a cat might chew. I've found an earlier guest's snacks – and a hairball – under beds before, usually after I've had to take a bed apart to get a cat out.
Use extra pillows, your luggage, and furniture to block places Kitty might get stuck. If this is the first time you've stayed in a hotel with your cat be over enthusiastic about blocking access.
You will want to block the access points underneath or behind any piece of furniture you can not move by yourself. They will surprise you with where they can go.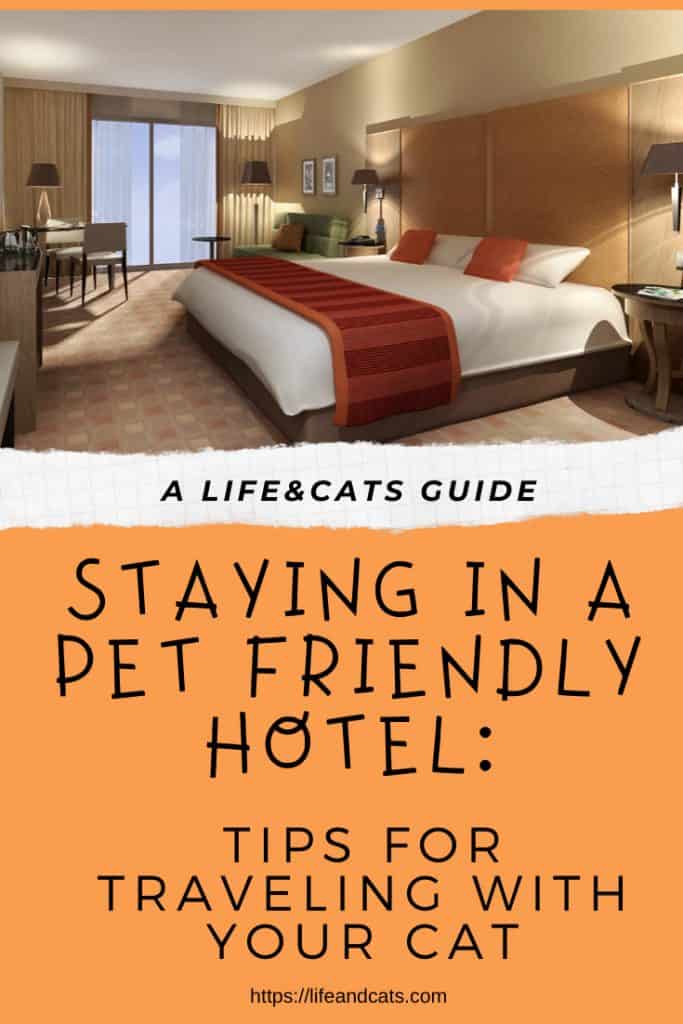 Make it Feel Like Home
This post may contain affiliate links. Life and Cats is a Chewy affiliate and a member of the Amazon Associates program and as such we earn a small commission when you shop through our our links and banners. It doesn't change the amount you pay. You can read our full disclosure policy here.
Set up your room with all the essentials from home. Set up a litter box where kitty can't make too much of a mess. I get a disposable box that comes with litter and put a pee pad under it. You can just toss the whole thing when you're done. Non-clumping litter is easier to clean than the fine clumping stuff. A roll of dog waste bags will cost you a dollar or two and is perfect for the litter box waste.
I use another potty pad or a paper place mat to set up a food area. Plush is a Persian so he can be a messy eater. Collapsible bowls don't work so well for him, but paper plates do. In a pinch when I ran out of pads I used the ice tray platter as a food mat and washed it before I left. I figured it was better than letting him get food on the rug.
A little cardboard or sisal mat scratcher is necessary if you bring a cat that's likely to scratch the rug or the bed. Treeno doesn't travel without one but Plush doesn't really need it.
If your cat is likely to mark his territory crate him in a pop-up shelter, or keep him confined in the bathroom. I know Plush isn't going to mark or damage anything. He will cry if he can't sleep with me, so I bring a blanket from home for him. He feels more comfortable because it is familiar to him and it has the bonus of keeping fur off the bed.
Stress Free Visits to a Cat Friendly Hotel
If your Kitty gets stressed by traveling, you can help her relax with Rescue Remedy or spraying a bit of Feliway.
Leave Kitty's carrier somewhere she can use it as a hideout if she needs to feel extra secure. Just open the door to the carrier and let her come out as she gets comfortable.
Most cat friendly hotels don't want you to leave your cat unattended in the room. You might run to dinner but don't plan to spend the day out exploring without taking Kitty with you.
Ask the manager for suggestions of a boarding facility or pet sitter than might watch your cat for a day if you plan an activity that needs to be cat free.
Some cats get very stressed. Keep an eye on the "input/output" and make sure she's eating and peeing. Most cats will get comfortable if you are there.
Plush was very stressed the first time we took him on a road trip but now he loves to travel. We have a travel routine now and he expects certain things. He has a favorite "road food" (don't we all?) He likes to watch TV. The best part is, he has 100% of my attention because his annoying little siblings stay home. He doesn't really play at home but he will on the road (just not in the show ring when I want him to do so of course.)
Do Not Disturb
Put the do not disturb sign on the door. I haven't encountered it yet, but there is a trend toward "room occupied" instead which allows housekeeping to enter the room after knocking. I'd ask for a "pet in the room" indicator in those cases. You don't want your cat to escape. Mine are more likely to hide than run out but you never know.
I typically stay for a one or two night stays so I don't stress about the room being serviced. I accept the "green" options of not getting the linens changed and just leave the do not disturb sign on the door. You can always go to the desk and ask for a roll of toilet paper if they don't leave enough.
If I am lucky enough to be staying in one place for 3-4 nights, I let housekeeping service the room as normal. But that means I clean the room before I let them clean the room.
We line the trash cans with a plastic grocery bag and throw out food and poop bags of litter waste each day and tie it up. The housekeeper just has to empty the trash as normal and anything gross is at least double wrapped. I sweep tracked litter up with a mini dustpan I keep in my travel bag. Lint roll bedding or furniture if your cat has left her furry signature.
Make it Easy to Travel with Your Cat with Our Free Guide
You will also get access to our exclusive, subscriber-only, Resource Library full of free and paid ebooks, guides and printables; as well as our "mews"-letter with current posts, cat-related news, and a monthly calendar of activities and adventures for you to share with your special feline friend.
Don't Leave a Mess When Staying in a Hotel with Cats
When we prepare to check out we make it as easy as possible for the staff. I bring a big trash bag and bag the whole litter box and toss it at the end of our stay. I try to take it direct to the dumpster myself so the housekeeping staff doesn't have to deal with it at all. At the least, I have everything cleaned up and bagged so they only have to carry it out. We sweep the floor with my dustpan or Dustbuster. I keep a bottle of Nature's Miracle in the car so in case of an accident I can take care of it right away.
I want the staff to have no idea there was a pet in the room. It is always nice to leave a good tip for housekeeping. We want to be good ambassadors for traveling cats!
Enjoy traveling with your cat. It can become a great experience for both of you. Hopefully the tips in this series of posts have inspired you to try taking a trip with your feline friend.
Do you regularly travel with your cats? Share any valuable tips or great cat friendly hotels in the comments.