I took my little kittens to their first cat show last weekend and ended up leash training them. I've taught two others over the last couple years. It expands their horizons and keeps them occupied. My Persian has become an accomplished traveler and tourist cat. Leash training a cat opens up enrichment opportunities for you both.
If your kitty is hankering to see what's beyond the front door or fascinated by the birds outside the window, she might be a good candidate for leash training and life as an adventure cat.
Why walk your cat on a leash?
Learning to walk on a leash gives your cat a chance to experience the outdoors. It gives them exercise to help prevent obesity. They get mental stimulation and enrichment to prevent boredom and bad behavior. It is another way to bond with your kitty and enjoy an activity together. Outdoor adventuring is not the right choice for every cat. Learning to wear a harness and leash is a life skill most cats should learn for their safety in a disaster if nothing else.
This post may contain affiliate links. Life and Cats is a Chewy affiliate and a member of the Amazon Associates program and as such we earn a small commission when you shop through our our links and banners. It doesn't change the amount you pay. You can read our full disclosure policy here.
What to look for in a harness
Look for a cat harness or a walking jacket like the Kitty Holster or the Mynwood Cat Jacket. Most behaviorists seem to recommend the walking jacket style as more comfortable but they aren't as available in stores. Some cats have issues with the jacket feeling. If your cat prefers a regular harness, look at the Come with Me Kitty harness and leash set. Lupine, RCPet and Coastal all make the traditional Roman or H harnesses as well.
Be careful when buying a harness made for dogs that slips over Kitty's head. Cats back up when frightened and can slip out of a dog harness. Measure your cat's girth right behind his front paws snug against his fur. Read the directions on the harness you buy for exact instructions. You want to be able to just put 1-2 fingers under the harness. Test Kitty on his new harness inside before taking him outside to make sure he can not slip out of the harness.
Train your cat to wear a harness and walk on leash
Teaching leash skills is easier with kittens but most cats that are not fearful can learn to walk on a leash. My little girls fall into three categories. Betsy wore her harness and was a superstar pet me kitten. Mocha was okay walking up and down the hall with practice. I never got Caramel's harness on, I might as well have touched her with a live wire. We'll be taking the long process with her.
Begin by getting Kitty used to the harness. Let him explore it by just leaving it in his space.
Put it on or over him without clipping it. The best time to practice is when he's hungry. Let him eat while he wears it. The food will help distract him.
Fit the harness and let him wear that until it is no problem for him.
Add the leash. Hold it while he walks around. You can let him drag the leash but some cats panic when the leash follows them around.
Encourage him to walk to you with his favorite treats.
Generally, cats walk you. Let him take the lead, sniff around and explore the area. It is best to start in his own backyard, a quiet park, or somewhere like a pet store. Don't start him off on a city block where the noise of cars is likely to scare him.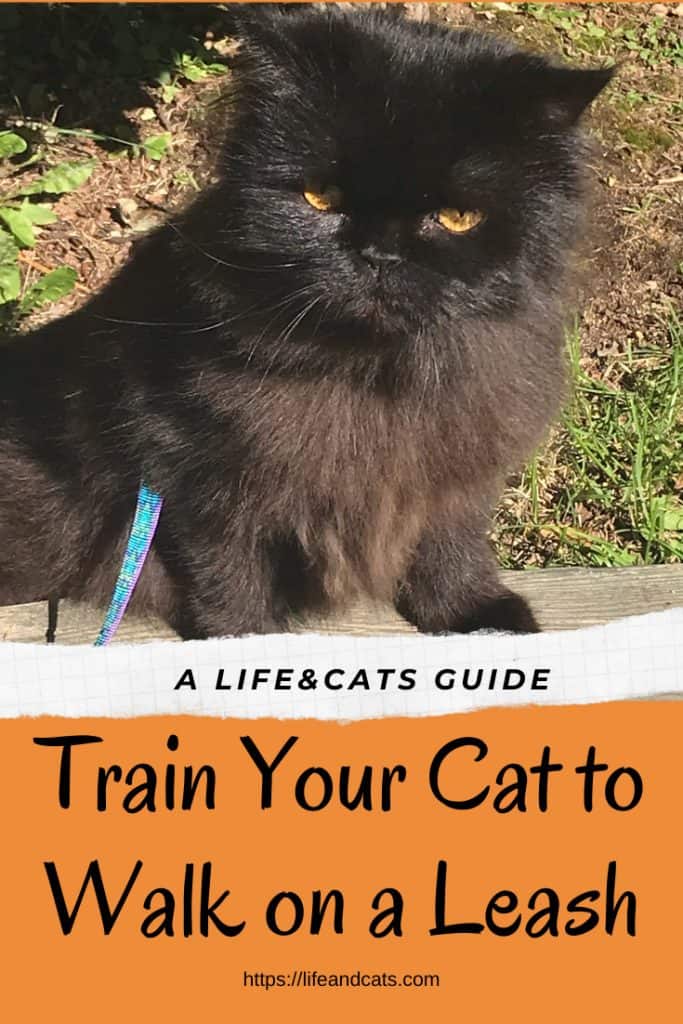 Watch how Kitty reacts when you take her outside. Is she excited and ready go and explore? Is her tail up and her ears forward? Or is he slinking along with his tail down and his eyes dilated? Not every cat will be successful as an adventure cat. Don't give up after one try though, he may just be reacting to the newness of it all.
It is possible to teach a cat to heal or walk with you. Clicker training is one method that works well.
It is common for Kitty to just flop over, or freeze, when first wearing a harness. Try distracting him with a favorite treat or toy to encourage him to move. Once they figure out they can move the process goes along quicker.
My Treeno didn't appreciate his first time training to walk on his leash but he was too adventurous as a pet me cat at a show. He wanted to go visit all the people and climb in the photographers' studio. At first he refused to take part in the experience, but he's food motivated and the treats and toys method soon had him running laps around the show hall.
Once you have a leashed trained cat be sure you don't let him be the boss of you. Don't let the cat decide when he's going for a walk. If he's pestering you to go out, don't reward the begging. Don't let him walk out the door. Put his harness on inside and carry him out, then put him down. It will teach him he goes out when you take him and discourage door darting. Never leave your kitty outside unattended.
If your cat is adventurous and shows interest in the outdoors leash training and an out-and-about experience might be just what he needs.
Prepare in Advance
Be sure your kitty is neutered, up to date on his vaccinations, current on flea and tick prevention, and microchipped before you take him outside on his new harness and leash. Have an ID on your kitty. Make sure you identify him as an indoor cat. If he escapes whoever finds him will know he is not street smart.
Grow Your Bond with Your Cat with These Fun Activities…
and give your cat the best life possible.

You will receive access to a subscriber-only resource library of free and paid cat care guides and printables, our "mews"-letter filled with more tips, cat-related news, and a calendar of enrichment activities to do with your special kitty.
Strollers and Backpacks
Not every cat is a candidate to be your hiking or touring buddy. Some cats, like my Caramel, will not wear a harness. Others become overstimulated by the unfamiliar smells, sights and sounds.
A pet stroller or a pet backpack can be a safe way to enlarge the territory of a kitty that won't tolerate a leash or harness. It also gives you an easy out if you need to shield kitty from an off leash dog while you are enjoying a walk around the neighborhood (or to give your back a break from carrying kitty from place to place.)
If your cat is an adventurous kitty that shows interest in the outdoors, lives in a small space, or is exhibiting signs of boredom then leash training and an out-and-about experience might be just what he needs to burn off extra energy. Outdoor adventuring on his new leash and harness might be just the enrichment he needs.
Have you taken your cat on any adventures? Or trained him to the leash in the backyard? Jump over to our Facebook page and tell us about it or drop a comment below. You can check out our Instagram to see Plush's latest adventures. Let us know your handle so we can follow your adventure cats too!