According to Petcoach, the average lifespan of a free-roaming outdoor cat is around 3-5 years, compared to an indoor cat's 12-15+. But indoor cats can suffer from stress, boredom and depression and develop destructive behaviors if we don't provide them with an enriched environment. Physically, indoor cats are at higher risk of obesity, urinary diseases, and diabetes. Giving your cat controlled access to the outside world can alleviate some of these issues and enrich her life.
Risks to Outdoor Cats
Despite that, I believe that cats are best off living inside with their people rather than roaming outside. It is easier to prevent the physical and mental health issues of an indoor lifestyle than it is to avoid the dangers that threaten the well-being of outdoor cats. Free-roaming outdoor cats are at risk from predators and parasites and also from getting run over by a car or getting lost. Cats fighting among themselves can spread disease, include FIV.
This post may contain affiliate links. Life and Cats is a Chewy affiliate and a member of the Amazon Associates program and as such we earn a small commission when you shop through our our links and banners. It doesn't change the amount you pay. You can read our full disclosure policy here.
Outdoor Enrichment for Indoor Cats
I have tried to provide my cats with exercise, play, and enriching experiences indoors. But my experiences taking Plush out and about made me realize that giving a cat experience with the outside in a controlled way can be a great source of enrichment. Outside adventures won't suit every cat. Being confronted with the wider world would terrify some of mine. My formerly abandoned street kitty has PTSD at the sight of an open door. There are ways to add outdoor access for your indoor kitty without letting her loose in your yard.
Grow Your Bond with Your Cat with These Fun Activities…
and give your cat the best life possible.

You will receive access to a subscriber-only resource library of free and paid cat care guides and printables, our "mews"-letter filled with more tips, cat-related news, and a calendar of enrichment activities to do with your special kitty.
Window Perches and Conservatories
An open window with a window perch on the inside sill might be enough for a true homebody kitty. You can make something by putting a cat bed on top of a table in front of the window or getting a hammock that brackets on the windowsill. Specially designed shelves that wrap a window let Kitty enjoy the view. Consider installing a window guard to prevent falls, like you would do for toddlers, especially if you live in an apartment building.

Apparently it is wise to check with your rental agent or homeowners' association before placing one of these. Even though they are not permanent installations, it seems some people object to the appearance of a kitty window box patio.
Semi-Permanent Installations
If you are lucky enough to have a balcony or a deck, you can enclose it and set up a little oasis for Kitty. You can DIY something with pet mesh or chicken wire and zipties or build something a little more permanent if you own your place. Even some mesh and a fire escape can give Kitty a little outdoor run (and still let you get to safety if needed.) Adventure Cats has some suggestions on how to make that happen. Pinterest is another great source for ideas.
Portable Cat Runs
If your apartment complex or homeowners' association doesn't even stretch to a semi-permanent installation, it will limit you to something portable. You can still offer your cat some outdoor enrichment. Kittywalk is a portable options that you can put out on the lawn or deck when Kitty goes out to play. It is an expandable system so you can purchase a starter option and add on as funds and space allow.


Wooden cat runs make good portable catios. In a high rise apartment, even a cat playpen on your balcony is a way to let your cat get some fresh air. You can get a chicken coop for a starter catio if you're looking for something backyard friendly.
Build a Catio
You can think as big as you like if you aren't bound by someone else's rule. There are spectacular examples of builds on Pinterest and sites like The Cat Carpenter. Beautiful garden enclosures, screen porches, or decks can provide Kitty with a chance to experience the outdoors. But with some 2x4s, a roll of chicken wire, and a few hours you can build your kitty a simple outdoor playspace. ChirpyCats has a great explanation on how to put one together here.
I can't claim beauty at all, but I've been working on building in a catio on the back of my house. From an overhang area covering a bulkhead, boring space we have built a deck. We just need a few more pieces of plywood, a door, and the animal proof screening and chicken wire. The cats will access through a cat door in the window, but there's a human door out there too. I hope my feline friends will see this as just another room to hang out in. Hopefully, even my scaredy cats will enjoy the space.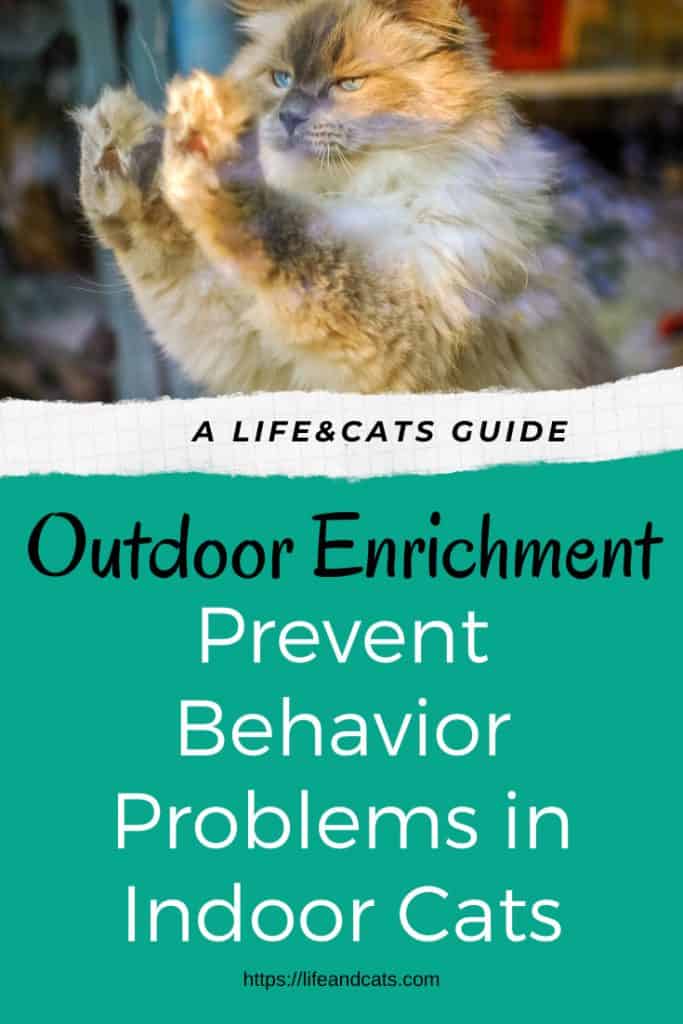 Catify the Space
Spice up the environment even if you are working with a small cat window box or a playpen on a balcony. Dress up the catio for the cats: lounge shelves, cat trees, or beds, whatever fits. Add cat friendly plants. Put in some catnip, hang some spider plants, and grow some cat grass. Add a water feature if you have the space.
Go Adventuring with Kitty
For the cat with the confidence and personality for it, adventuring is the ultimate in outdoor enrichment for indoor cats. Taking your kitty out on her leash and harness is fun for both of you. It is a great way to bond with your kitty. Experiencing new adventures together builds trust and relationship between the two of you. It helps prevent obesity, stress, and boredom in your kitty. It doesn't do you any harm to get out in the fresh air and sunshine either.
Harness and Leash Training
Don't give up if Kitty doesn't appreciate her new harness at first try. Treats, toys and affection can all help her get used to wearing a harness. We have a guide to leash and harness training here. Try different styles to see if she likes the all over contact of a walking jacket or if a Roman harness is more her thing. Be sure you get a good fit so Kitty can't wiggle out. You shouldn't be able to fit more than two fingers under the strap.
Backyard Adventures
Start out slow, don't expect your kitty to jump in to hiking with you like your dog does. Just walking around your backyard sniffing the fresh air and snacking on grass could be plenty of enrichment for a less adventurous cat. Make it part of her routine just like playtime or dinnertime.
If Kitty is ready to up her game, check out local hiking trails, parks and beaches. I always assume the same rules apply to cats as to dogs and follow the access laws, leash laws, and clean up rules (though my cats never potty outside.) If in doubt ask. I usually get laughs but rarely a flat-out no.
Urban Explorations
If you live in an urban area, take your city kitty out exploring your neighborhood. Explore the restaurants and coffee shops with patios that welcome Kitty to join you for a meal. Take her shopping at a pet-friendly business.
Go to outdoor events like free concerts, street fairs or art shows. Even some museums or historical sites will let you bring Kitty on-site, if not indoors. Bring a friend and trade off touring and exploring the grounds with Kitty.
Stay Safe Outside
Be sure your kitty is current on her vaccinations and flea and tick meds whatever method of outdoor enrichment you choose. A properly registered microchip is a good start to keeping her safe but a proper identification tag on her harness is necessary too. If you live outside of the US where outdoor cats are more common, consider something like the Tabcat or another tracker to locate her when necessary. Interesting to find out where she goes too!
Outdoor enrichment for indoor cats is energizing for both of you. Your kitty will appreciate the added dimension to her life whether it is a window perch or a grand adventure. Her mental and physical health as well as the bond between you will benefit.
Do you have a catio or other outside enclosure for your kitty?  Is your kitty an aspiring adventure cat like Plush?  Drop me a comment or better yet get in touch on Facebook and share pictures of your kitty and their outdoor fun.

Last Updated on May 10, 2021 by Holly Anne Dustin